Climate Africa Media Initiative & Centre (CAMIC) and Dangote Group have began a two-day training for journalists on reporting the environment for sustainability.
The training is in collaboration with naturenews which has a theme: "Reporting the Environment for Sustainability" began on Monday at Dangote Academy, Obajana, Kogi State.
Mr Pius Alabi, CAMIC Chief Growth Officer, said the training would expose the participants to covering investigative environmental reporting, Environmental -Social and Governance (ESG) reporting; Journalism and Climate Change; and Social media journalism.
Alabi charged the participants to take advantage of the training as it will equip them on how to holistically report the environment.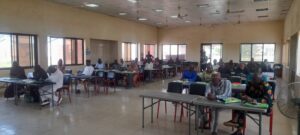 In his welcome address, the Executive Director of CAMIC, Mr Aliu Akoshile, said that the training was timely as the world is currently experiencing diverse environmental challenges.
Akoshile said, "I want to thank Dangote Group, CAMIC and all of you here for collaborating to make this programme a reality.
"It is important to know that the environment affects all aspect of life, which is why we need to put the environment first.
"With this training on environmental sustainability, I'm sure we'll all leave here with more knowledge and skills on how to effectively report the environment."
Similarly, the CCM, North, Dangote Group, Jibrin Abubakar, while welcoming the participants to the training said the workshop would help journalists see environmental sustainability reportage from a more diverse perspective.
The head of Dangote Academy, Mr Wale Adeniyi, said that the academy is focused on training and retraining participants, adding that the purpose of the workshop was to train journalists on the importance of environmental sustainability.
NatureNews Africa reports that over 50 newsmen, drawn from the print, broadcast and online media makes up the participants in the ongoing training.